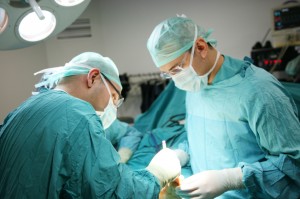 Patients undergo surgery to improve or fix a medical condition. When a surgeon errs during an operation, it is a surgical error. Common surgical errors include:
Doing surgery on the wrong part of the body
Cutting a blood vessel or organ that shouldn't have been cut
Turning off or ignoring a warning alarm of the machine monitoring patient vital signs (e.g., heartbeat, blood pressure, blood-oxygen level, breathing rate)
A surgery that is unnecessary
Using surgery tools poorly or incorrectly
Delaying a surgery for too long
A reckless decision made under pressure
Leaving a surgical instrument or item inside the body
Performing the wrong procedure
Doing the surgery incorrectly
Below is a list of common procedures and complications that can occur.  Contact the legal-medical team at Buchanan & Buchanan to evaluate if your complication was caused by medical malpractice.  We have decades of experience handling medical malpractice cases, including surgery complications.