Congratulations sleuth! You've successfully navigated to the secret decoder for Buchanan & Buchanan's 2013 holiday card. Keep quiet so no one knows you visited, and amaze friends and co-workers with how you cleverly crack even the subtle lampoons.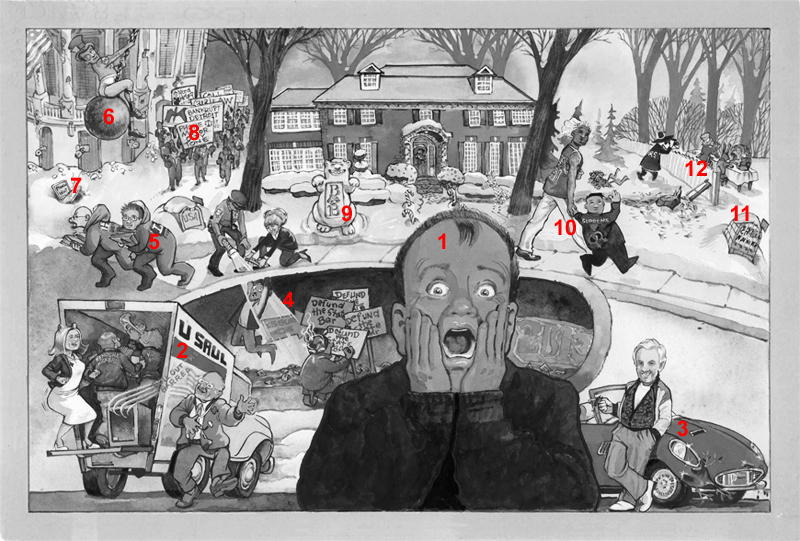 Home Alone. In our tribute to the 1990 holiday movie classic, a now aged Kevin McCallister (attorney Rob Buchanan) takes on ne'er-do-wells by himself, overcoming dreary odds with ingenuity, determination, and heart, to deliver exceptional results for wronged underdogs (our clients).
Kenosha Kickers. Kate McCallister (nurse advisor Helen Hicks MSN twerking Cyrus-style) and Gus Polinski (Raymond Beckering MD) of our on-staff medical band warmly greet each guest: "Fear not, for we bring you good tidings of great joy."
Bueller? . . . Bueller? . . . Bueller? . . . . From the same Chicago neighborhood but a different John Hughes' film, is Ferris Bueller (attorney Jack Buchanan). A seasoned legend with uncanny skill, he is always ready to embark on the next inspiring adventure. We see him beside the "so choice" Ferrari 250 GT California Spyder rescued from the spray of glass shards in the forest ravine behind Cameron Frye's dad's garage. Ferris is very popular. The sportos, the motorheads, geeks, sluts, bloods, wasteoids, dweebies, and dickheads – they all adore him. They think he's a righteous dude, and we agree.
Beacon of Light into Dark Abyss. Incorrigible scoundrels Marv and Harry are once again up to no good. They scurry underground in the pitch-black sewer, funneling large cesspools of anonymous, secret money through enigmatic non-profits to contrive and deploy deceptive "issue ads" to influence judicial and other public elections. In September 2013, the State Bar of Michigan courageously pries open the manhole cover to shine a sliver of light for judicial elections into this murky abyss. See angelic State Bar Executive Director, Janet Welch, kneeling on the sidewalk prying back the lid? The light startles the sewer rats and they snarl at the State Bar, threatening to defund the profession- regulating organization if it does not close the sewer lid immediately. The rats then bite Michigan Secretary of State Ruth Johnson when she tries to lift the manhole cover. We hope the courageous initiatives to restore integrity to public elections succeed and will soon bring an end to the malodorous money. Two days before Thanksgiving, the U.S. Treasury announced plans to limit political contributions by non-profit entities in a measure to curtail the dark-money plague.
Breaking Bad. We are sad this entertaining crime drama series recently ended. The show's potent chemical properties addicted many. Here we see Walter "Heisenberg" White (our friend Bill Henn) and Jesse Pinkman (our former colleague Kevin Lesperance) skulk in the night to set up their new lab, cooking batches of poisonous treats for people wronged by poor medical care or dangerous roads. You might also recognize the name on the side of the rental truck belongs to our beloved-scumbag-criminal-defense-lawyer-now-in-hiding Saul Goodman, who started a new business to occupy time while he hides until his spinoff series.
Wrecking Ball. Wrecking balls have great impact in 2013, from re-animating the expired career of a buck-naked former teen idol in September, to shuttering our federal government by caffeinated pachyderms for most of October. We see 5-Hour-Energy-charged Speaker of the House John Boehner riding the ferrous beast in swings to become the White House farrier.
Ailing National Health. Obamacare caught a near-fatal virus when the website to enroll crashed at the launch. The website still fizzles and smokes and the political parties squabble over the future of health coverage for all Americans.
Detroit Legal Pugilists Storm West Michigan. We love West Michigan. Great people, big-city living with small-town feel, solid jobs, and can-do attitude. But a mole leaked our well-kept secret. Like the California Gold Rush of 1849, lawyer-pugilists from the east side of Michigan stormed the town in 2013, pitching temporary encampments, and littering the landscape and wrapping municipal buses with billboards hawking claim-prospecting services. "Rudolph with your gloves so bright, won't you east-side my Cassius Clay tonight?" Many came from a bankrupt community, where big corporate law firms pillaged the treasury with Lansing's blessing. We understand the lawyer-pugilists desire to come to West Michigan, but we hope the outlanders do not spoil our respectful approach or majestic views.
Honey Badger. The honey badger is fearless, intelligent, and unmatched despite his small size, and overcomes great odds. He lives alone and this year earned great fame by a coarse, colorful video on YouTube. He is bad a**. Here, the local neighborhood kids honor the varmint with a likeness made of snow.
Perfect Match. Soon after Kim Jung-Um started courting retired NBA jester Dennis Rodman, the U.S. Supreme Court in

United States

v

Hollingsworth

cleared the way for same-sex couples to marry. This demented duo is ecstatic and plans a special exhibition basketball party for January 2014.
Mistaken Identity. More than just national secrets came out of hiding after the espionage trial of U.S. Army private Bradley Manning this summer. At sentencing in August, Private Manning revealed he is actually a she, Chelsea Manning. She also has a new address, Fort Leavenworth, Kansas.
Spot of Tea. The Internal Revenue Service caught great flak in 2013 for scrutinizing tax-exemption applications of the Tea Party and other conservatives based on their names or political themes. We also see the trail of debris from the pristine pine Kevin McCallister amputated from the impeccable yard and dragged into the house for his makeshift Christmas tree.
The dome inside our card is the U.S. Capitol during the government shutdown.  Note there is light in only one room