Congratulations sleuth! You've successfully navigated to the secret decoder for Buchanan & Buchanan's 2014 holiday card. Keep quiet so no one knows you visited, and amaze friends and co-workers with how you cleverly crack even the subtle lampoons.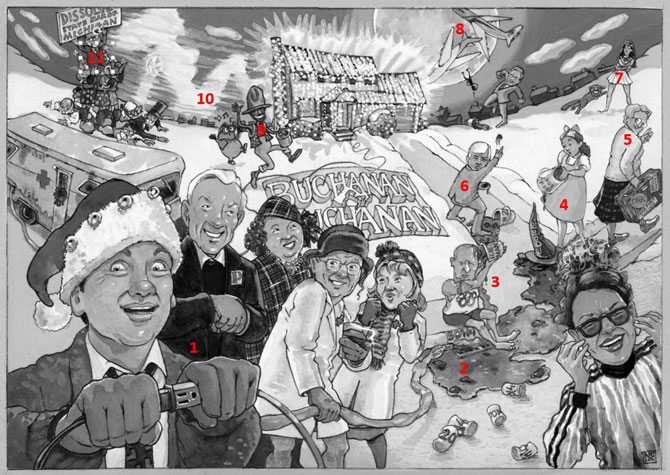 National Lampoon's Christmas Vacation

.  In our law firm's tribute to the comedy Christmas film National Lampoon's Christmas Vacation (1989), Clark Griswold Jr. (attorney Rob Buchanan) thanks his dad, Clark Griswold Sr. (attorney Jack Buchanan), for teaching him everything he knows about exterior illumination.  He dedicates a supernova torching of the neighborhood "to the Griswold Family Christmas."  Cheering the display is the Griswold team: Aunt Bethany (office manager Janna VandeGriend, dressed in Buchanan plaid of course), Uncle Eddie Johnson (on-staff-medical advisor Dr. Ray Beckering), Catherine Johnson (on-staff-nurse Helen Hicks MSN), and silver-suited-yuppie-neighbor Margo Chester (paralegal Leslie Caliguri).

Uncle Eddie's Battletested RV

.  With Christmas just days away, the Johnsons' battletested RV is parked out front and Eddie empties the septic tank into the sewer.  The end of the hose, a Koch-Brothers-made product, spills fertile dark liquids and solids into a "501(c)" sewer grate.  Some of this slurry backs up, pooling on the street and forming a puddle similar in shape to our mitten state.  Dark-murky riches from unknown sources flooded Michigan's 2014 judicial elections in record amounts.

Vladimir Putin Takes the Ice-Bucket Challenge

.  Russia's president Vladimir Putin has been busy this year.  In February, he hosted the world in the 2014 Winter Olympics in Sochi, Russia.  In March, he annexed the Ukraine to consummate his unrequited love for Crimea (notice the heart tattoo on his right bicep).  In July, Mr. Putin's militia shot down a civilian Malaysian Airlines 777 jet passing high above the Ukraine on an Amsterdam-to-Kuala-Lumpur route.  We see him here, eluding the modest pledge he made to ALS (amyotrophic lateral sclerosis) Association research by opting instead to dump a bucket of chilled duty on his own head.  After wasting $51 Billion in cost- overrun construction for the Sochi games, we understand Mr. Putin's frugal choice.

Wicked Stuff

.  In October, the infamous rogue Ebolaba (also known as Ebola virus) travelled to the United States for the first time, causing mass hysteria and panic in New York, Texas, New Jersey, and other states.  Right before Halloween, New Jersey Governor Chris Christie quarantined a nurse to a weekend of isolation in a tent at a Newark hospital because she had socialized with Ebolaba in Liberia.  Here, we see Dorothy Gale of Kansas dousing Ebolaba with a "seedy sea" (i.e., CDC – Center for Disease Control) elixir to quell the American crisis.

Farewell Mrs. Doubtfire

. Sadly, we said goodbye unexpectedly this year to Mrs. Euphegenia Doubtfire, and all her charming kin including Daniel Hillard, Mork from Ork, Adrian Cronauer, Sean Maguire, T. S. Garp, Eugene Aladdin, John Keating, Leslie Zevo, Patch Adams, Popeye, and so many more.  We will dearly miss the dame and her delightful family.

Duty Calls

.  Politicians were in full-fling this year with the elections, including the races for Michigan Governor, US Senate, and Michigan Supreme Court.  We see Rick Snyder tossing a few solid brown treats from a "# 2" bucket at his challenger Mark Schauer, who naturally returned the volley.  The Tough Nerd won the match in November.
"Oh Mighty Isis".  This year we witness the worrisome debut of a new jihadist rebel group terrorizing the Middle East, calling itself "Islamic State of Iraq and Syria" or "ISIS."  The group has stepped into the public eye of the Western world by broadcasting video executions of American journalists and aid workers.  President Obama, like the enraged squirrel that lunged from the Griswold Christmas tree in the film, springs to action and seeks world unity in a valiant response.
"Ground Control to Major Tom".  It hasn't been a good year for air travel.  In March, Malaysia Airlines Flight 370 climbs out of Kuala Lumpur Airport after midnight and vanishes into the night sky over the Gulf of Thailand.  In September, a New York couple departs the Greater Rochester International Airport in a single-engine turboprop headed for Naples when air traffic controllers lose contact.  North American Aerospace Command scrambles two jet fighters, which escort the plane until it enters Cuban airspace never to be seen again.  In September, Libya reports 11 of its commercial jetliners missing from the main airport in Tripoli.  Either extraterrestrial beings have reanimated the Bermuda Triangle which closed up in the 1970s or the "Barefoot Bandit," Colton Harris-Moore, broke out of federal prison in Washington State to test fly some heavy iron.  By hook or by crook, those shadows on the lunar surface bear resemblance to silhouettes of lost airbuses and Amelia Earhart.
"Happy".  It might seem crazy what I'm about to say.  Moonlight's here, you can take a break.  I'm a hot air buffoon that knows that face.  Without outerwear, like he don't care baby by the way.  Because Pharrell Williams is happy. Clap along if you feel like a tune without a proof.  Because Minion is despicably sappy.

Clouds in Night Sky

.  Over Labor Day weekend, horny hackers found more than water vapor in the clouds.  While ascending into The Cloud, they Tumblr into a cache of private intimate photographs of Katniss Everdeen, District 12's toxophilite victor of the 74th Hunger Games and fugitive from the Third Quarter Quell.  This brash, unpretentious and spontaneous tomboy, known to others as Jennifer Lawrence, reveals a new front.  The silver lining of this story is the photos are no remake of The Crying Game, another rebel tale.

Silent Advocates

.  Last year in September 2013, as you know, the State Bar of Michigan tried to protect the integrity of Michigan courts, by asking Secretary of State Ruth Johnson to ban untraceable dark money from judicial elections.  The virtuous request to protect justice enraged a furtive band of dark-money mercenaries and profiteers.  And, in January 2014, Michigan Senate Majority Leader Arlan Meekhoff retaliated by introducing a bill to silence all Michigan attorneys forever by gutting the State Bar.  Here, we see the sycophant perched on the shoulders of covert goons who have gagged and are trampling all advocates for justice.  Gagged advocates pictured here include attorneys Abraham Lincoln, Thomas Jefferson, Franklyn Roosevelt, Atticus Finch, Perry Mason, Brian Einhorn, and Vinny Gambini.