Congratulations sleuth! You've successfully navigated to the secret decoder for Buchanan & Buchanan's 2015 holiday card. Keep quiet so no one knows you visited, and amaze friends and co-workers with how you cleverly crack even the subtle lampoons.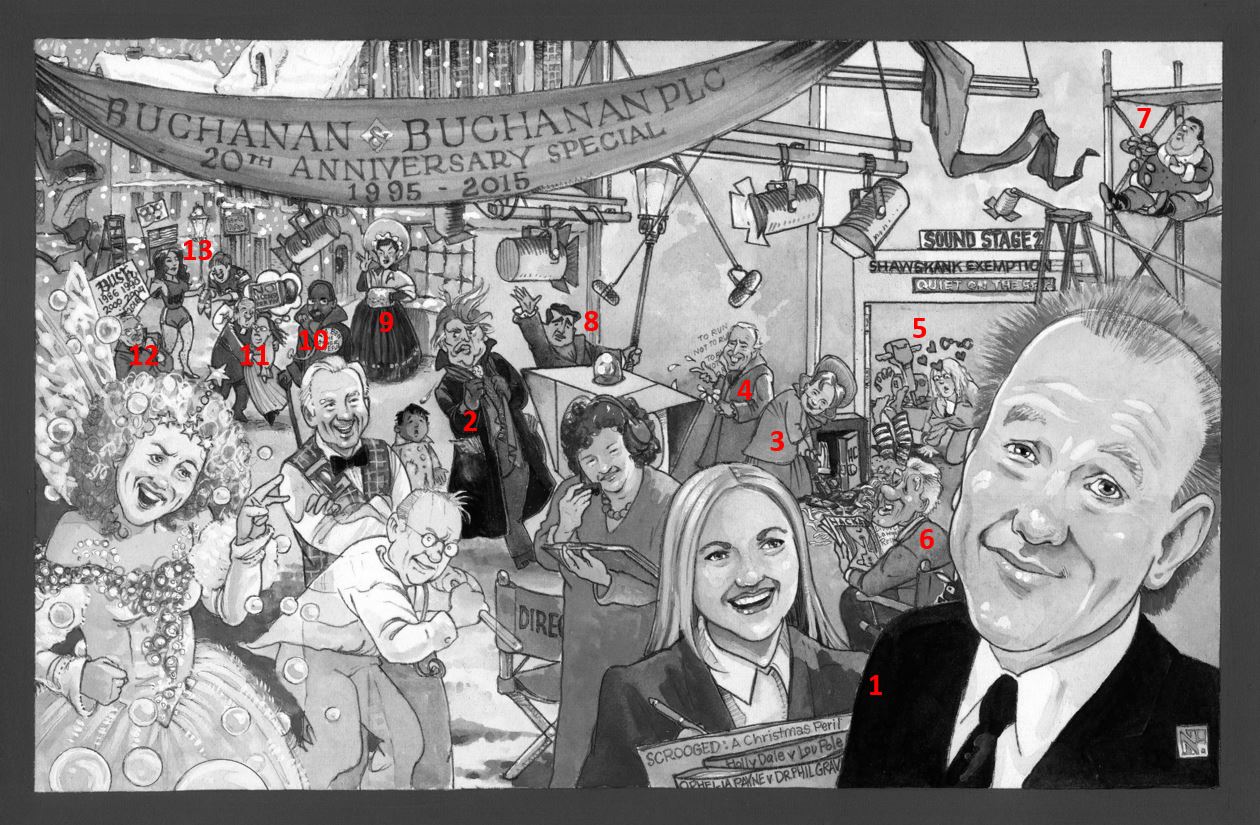 Decoder for Buchanan & Buchanan
2015 Firm Holiday Card Lampoons
Scrooged. For our law firm's 20th Anniversary, we pay tribute to the comedy Christmas film Scrooged (1988) starring Bill Murray. In our updated version, Frank Cross (attorney Rob Buchanan) is a wisecracking programming executive for WPBS watching over a live reality television production of A Christmas Carol. He forces staff, including his direct assistant Grace Cooley (paralegal Leslie Caliguri), to work over the holidays. Frank's boss Preston Rhinelander (attorney Jack Buchanan, in the festive plaid vest with the Primerus "P" logo) stands in the wings enjoying the spirited, astonishing, and unbelievable spectacle on stage live. Others offstage, and captivated by the performances, are Ghost of Christmas Present (on-staff nurse Helen Hicks MSN), Ghost of Christmas Past (recently retired on-staff physician Raymond E. Beckering Jr. MD, perfecting his golf swing), and the production coordinator (office manager Janna VandeGriend).
Ebeneezer Scrooge. The main character in the 2015 production of this holiday classic is American billionaire, business tyrant, reality television personality, and Republican frontrunner candidate for President of the United States Donald J. Trump. We catch Ebeneezer in action here, spritzing Tiny Tim with his juices of wisdom. Famous Mexican child actor Huesudo Refugio plays the pint-size Tim.
I Did Not Have Textual Relations with That Server. Democratic frontrunner candidate for President of the United States Hillary R. Clinton does a little housework in a rare break from the campaign by cleaning out a stack of accumulated junk mail. She jokes: "By the way, I recently launched a Snapchat account. I love it; those messages disappear all by themselves."
"They Love Me . . . They Love Me Not." A spell of indecision paralyzed Vice President Joe Biden this year as he plucked off one daisy petal and then another, uttering the incantation and pondering over love of American voters. Like Ferdinand the Bull, Joe likes to sit quietly and smell the flowers.
Shaw Skank Exemption. In June, upstate New York prison employee Joyce Mitchell passed along escape tools to two inmates convicted of murder, enabling them to escape. Mitchell, who had regularly provided the pair with carnal favors, planned to pick them up in a getaway car when they emerged from a manhole cover on the other side of the prison fence. But she chickened out, foiling the love triangle and triggering a 3-week manhunt for the killers.
Divorce Lawyers Are First Responders to Scene. In August, computer hackers attacked the website of Ashley Madison, a service enabling extramarital affairs, and leaked the names, addresses, and personal information of all users for a public shaming. Two month later, in October, Playboy announced the magazine in 2016 will no longer print nude images of women. We see former President Bill Clinton, fidgeting in a director's chair with Playboy's new mascot of its rabbit in a burka. Bill probably worries playmates will be forced to register in Donald Trump's new mandatory database of all American Muslims if his wife Hillary does not win the next election.
Is that Kris Kringle? Is that Kris Kringle, recently asked to leave the main stage because of a poor showing, up in the scaffolding, enjoying a holiday cookie, or is that New Jersey Governor Chris Christie savoring a free Krispy Kreme?
Cuban Cruz Missile Crisis. Senator Ted Cruz, born Rafael Edward Cruz, is making advancements. In 2013, he seized the Senate floor and railed against the Patient Protection and Affordable Care Act for 21 hours and 19 minutes. During the crisis, Cruz took a moment at bedtime to read Dr. Seuss's Green Eggs and Ham. After watching Chance, a gardner, in the film classic Being There (1979), Senator Cruz in 2015 shares with us the original intent of the framer: "I do not like the public debt. I do not like the migrant threat. I do not like when two men kiss. I do not like the atheists. I don't believe in climate change. Nor in state health care exchange. I do not like to feed the poor. But I would like to start a war! And I support the one percent. And shutting down the government. You do not like me. So you say. Try me! Try me! And you may."
Live Long and Prosper. Sadly, in February 2015, we lost actor Leonard Nimoy who played half-human, half-Vulcan science officer Spock on the classic sci-fi TV show Star Trek. Nimoy was also part of the spy series Mission Impossible as a master of disguise. In this scene, Republican presidential hopeful and former technology executive Carly Fiorina pays tribute to Nimoy's Spock: "May I say that I have not thoroughly enjoyed serving with humans? I find their illogic and foolish emotions a constant irritant."
Famous Neurosurgeon Touching Raw Nerves. Famed neurosurgeon and Republican presidential contender Ben Carson explained in September 2015 that no more Muslims should be elected President of the United States, and whoever is should be sworn on a stack of Bibles, not a Koran. He also delivers regular shock treatments in Republican debates. We see him in this scene wearing a trademark campaign button: "I'm Ben. The Other Hopeful."
No License for You! Kentucky county clerk Kim Davis gained notoriety and brief jail time defying a federal court order requiring issue of marriage licenses to same-sex couples. The court order followed the landmark US Supreme Court decision of June 2015, holding the Constitution guarantees same-sex couples the right to marry. In the oral arguments back in April, West Michigan's appellate-guru and former solicitor general for Michigan, John Bursch, made a valiant and reasoned argument to the Supreme Court Justices for a traditional definition of marriage, but did not prevail. Here we see Republican presidential hopeful Reverend Mike Huckabee rushing to aid Ms. Davis for what he characterizes as the "criminalization of Christianity."
Another President Bush? Really? While doing spring cleaning in 2015 of the family compound in Kennebunkport, Maine, the Bush family cleaned out heaps of Bush v. Clinton and Bush for President yard signs and other campaign knickknacks. Rather than dump the hazardous waste in a landfill or incinerate it to generate electricity, former Florida Governor and environmentalist Jeb Bush has recycled all the material, putting it to new use. Here, we see Jeb proudly displaying a new product he made from the recycled waste.
Call Me Caitlyn. 1976 Olympic gold medalist Bruce Jenner made history this year by publicly announcing in April 2015 a name change from Bruce to Caitlyn and a gender change from a man to a woman. Caitlyn is the most famous transgender person in the world. He also came out as a conservative Republican. Meanwhile, Fox News can't stop calling Caitlyn a "he." In this scene, we see Caitlyn gifting two deflated footballs to a delighted Tom Brady, quarterback of the New England Patriots. Caitlyn no longer needs them. Brady made headlines of his own when he was accused of tampering with footballs used in a January 2015 NFL football playoff game, known as Deflatgate.   The Patriots won Super Bowl XLIX in February 2015. After, the NFL Commissioner suspended Brady for the first four games of the next season but a New York federal judge threw out the suspension. Tom Brady and Caitlyn Jenner have many reasons to celebrate 2015.