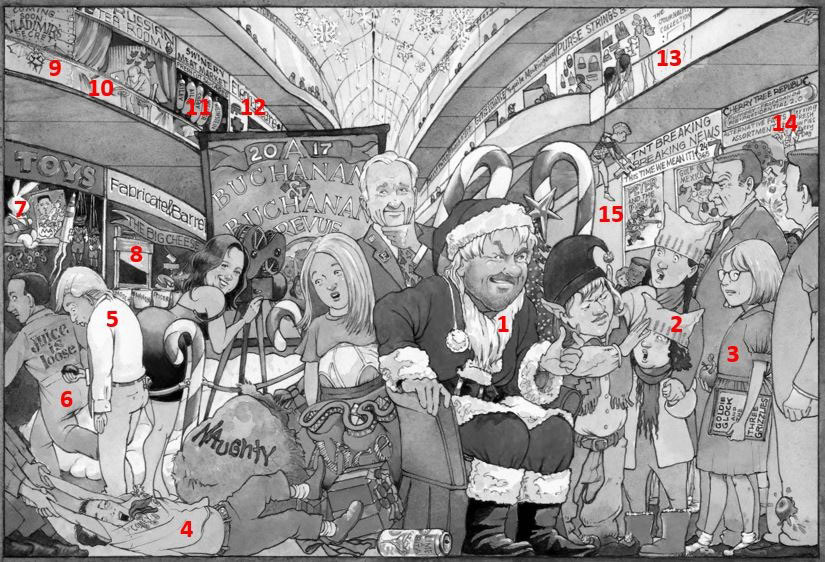 ---
Decoder for 2017 Year-in-Revue Holiday Card
1. Bad Santa Buchanan: The nonstop cannonade of urgent, peppery and salacious news over the entire year leaves us exhausted and craving a stiff drink. So, we pay tribute this year to the naughty dark-comedy movie "BAD SANTA" (2003) starring Billie Bob Thornton. In our version of the story:
• Willie T. Stokes (attorney Rob Buchanan) masquerades as a mall Santa for the holiday shopping season. Casting is a no-brainer. He sports a rumpled red suit and sly smile, and listens to the dreams and demands of little dickens. In 2017 the State Bar of Michigan elected Buchanan its Secretary, though he can barely type. His razor-sharp questioning and keen memory ensure nothing is forgotten on Christmas eve.
• Macie (on-staff nurse and former client Helen Hicks MSN) is Willie's sidekick and plays an elf medic. She greets the arriving youngsters, triages disorder, and helps sort and prioritize their requests.
• "The Kid," Erma Merman, (paralegal Leslie Caliguri) is friendly, wide-eyed and gullible. She believes Bad Santa Buchanan is genuine, virtuous, and decent, not shrewd or canny, so defense-law-firm vixens bully her. We see evidence of the merciless bullying hiked up into view.
• Sue, a mixologist, (legal assistant Shelly Sichta) listens to the visitors' tragic stories and helps deliver happy endings. Here, she stands next to a cutting-edge video camera, sharing Buchanan & Buchanan's latest legalmentary. Sue (unlike Shelly) shows off trendy-new-Kardashian implants enhancing nature to gargantuan proportions. Times have certainly changed: in 2017 when a woman asks you if her "butt looks big in these pants," the safe and expected answer is "Totally fab!"
• Bob Chipeska, the store manager, (attorney Jack Buchanan) watches over the action. On his lapel, we see a medallion commemorating the 25th anniversary of Primerus Law Firms, with nearly 200 member firms in 40 countries.
2. Children Anxiously Awaiting Santa. The next youngsters in line are two girls. From their pink hats, we know they joined 500,000 others in Washington DC for the January 21, 2017 WOMEN'S MARCH ON WASHINGTON. Nationwide 3.3 to 4.6 Million people participated, making the event the largest single-day pep rally in history. The crowd size on the Washington mall for the event paled in comparison only to Donald J. Trump's Presidential Inauguration the day before. Here, we see Macie, a medic, checking for fever. Or, is she grabbing the hat?
3. "Lions and Tigers and Bears, Oh My!" A young Betsy DeVos, future U.S. Education Secretary, stands in line with her private security team, a scene rousing memory of Norman Rockwell's painting of desegregationist Ruby Bridges in 1960 Louisiana. DeVos arrives after reading her essay on furry bears and the 2nd Amendment to graduating kindergarteners of Tuskegee Elementary. On the ankles of DeVos and her bodyguard, we see some of the special gifts graduates sent her by air delivery. Students at Howard University, University of Baltimore, George Mason University, and Harvard University greeted Education Secretary DeVos with similar gifts in 2017.
4. Free Carry-Offs. Customer service at this North Pole Village is like flying the friendly skies of United Airlines. A young, decorated James Comey, future FBI director and email savant, exits the retail hamlet with an honorary police escort leading the way. For the escort service, United Airlines passenger David Doa qualified in April for a large award package. Comey obtained the same service in May, with President Trump guaranteeing no charges.
5. Fossil Fuel Keeps a Big House Cozy. A young Donald Trump, future reality-TV star and 45th U.S. President, discovers the power of fossil fuel early in life. Here, we see him inspecting a rich lump of coal. Rapper Kanye West, one of Trump's biggest celebrity supporters and a Presidential candidate for 2020, croons: "Now I ain't saying he a coal digger. But he ain't messin' with no broke twitt-a." We also see the heel spurs Trump cleverly used in 1968 as a Coast Guard petty officer to avoid capture during the Vietnam War, catapulting his standing to war hero.
6. What Happens in Vegas Stays in Vegas. Former NFL running back, comedic actor, and convicted-armed-robber O.J. Simpson was released in October from a Nevada prison, after serving nine years on a thirty-three year sentence for stealing back his own sports memorabilia. Perhaps now he can find Nicole's real killer, after he's done getting kicked out of all the casino hotels.
7. Kidding Around Toys. This toy store specializes in 2017 keepsakes, including the Heffner Hare (the Pajama Man passed in September), Lil' Kim's "You're Fired!" rockets from the epic Hair Wars series that ran from September to December, and the Alternative-Fact Jacks posse of wooden press secretaries. Look! They also have fidget spinners!
8. Fabricate & Barrel Kitchenware. The kitchenware and gourmet specialty shop is running a promotion on cheese slicers. In the display window, we see a demonstration model of "The Big Cheese," chopping off head cheese from local dairies "Mooch," "Bannon," "Spicer," "Flynn," "Priebus," "Price," and more.
9. Coming Soon: Vladimir's Secret. Eastern Europe's best bras, panties and lingerie, and hyped by beautiful supermodels in the skivvies and with giant bat wings parading down an airport runway liberated from the Ukraine.
10. Russian Tea Room. The Russo-Continental restaurant has been a gathering spot for ballerinas, actors, writers, politicians, and expatriates since 1927. In the window, we see Russia's eternal President, Vladimir Putin. It looks like Putin is tweeting loved ones, or perhaps his close friends who will get out the vote for next year's mid-term U.S. Congressional elections.
11. Swinery Meat Market. An artisan butcher specializing in fresh cut sausages made from a vast assortment of power meats. Like the rise in American craft beers over the last decade, there's been an explosion of new sausage products in 2017, including "Riley," "Ailes," "Cosby," "Weiner," "Weinstein," "Spacey," "C.K.," "Pivens," "Ratner," and many more. In a freezer case at the back the store has an excellent selection of vintage sausages such as "Kennedy," "Hitchcock," "Polanski," and "Clinton."
12. Re-Heal and Re-Brace Disrepair. Eleph-I-Care (pronounced, as if with a Cockney accent: 'ell if I care) is a brand-new medical clinic. Like the Planet Fitness franchise did for the athletic-club industry, this concern promises medical care for the herd at a fraction of old pricing. The best part: if you like your preexisting condition, you'll be able to keep your preexisting condition.
13. "I'll Be Big Enough You Can't Hit Me, and All You're Ever Gonna Be is Mean." In August, a jury awarded $1 to Taylor Swift for her counterclaim against a Denver radio journalist, who groped her bottom and sued for defamation after the radio station fired him. This boutique of luxury handbags promotes "The Journalist Collection," a line honoring the Swift victory, and marketed in the spirit of comedian Kathy Griffin's controversial May 2017 salute to President Trump.
14. Cherry Tree Republic. This pie shop takes great pride departing from traditional methods and ingredients, to cook up new recipes. Its crackerjack marketing team reinvents the inspirational story of what happened after young George Washington got a new hatchet for his 6th birthday and his dad found the cherry tree in the front yard chopped down.
15. Breaking, Breaking News!!! This Time We Mean It!!! TNT News interrupts regular television programming every few minutes to bring you the latest story: "A Breaking, Breaking Special Report!" Nothing is unimportant; this station majors in minors. Out in the mall, we see the station's live weather-radar highlighting hurricanes developing across the Caribbean. Meanwhile, a mischievous Confederate from Charlottesville pranks the station by plastering his homemade "F" over the trio of letters "B," "R" and "E" of TNT's sign.
"And the Oscar Goes to . . ." The red envelope you opened moments ago to find answers is our standing ovation for the on-air gaffe of announcing the wrong winner for "Best Picture" Oscar at the 2017 Academy Awards.