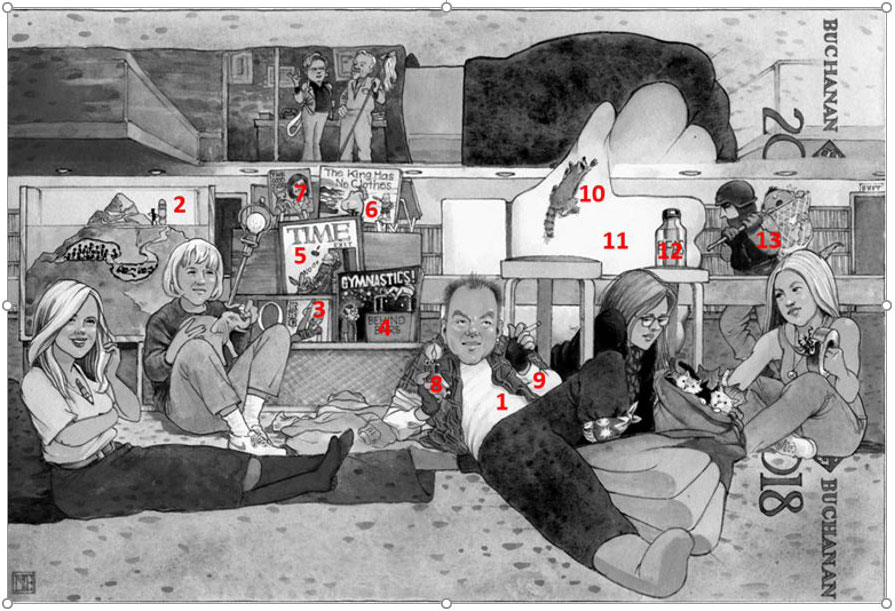 ---
Decoder for 2018 Year-in-Revue Holiday Card

1. The Breakfast Club. We pay tribute this year to "THE BREAKFAST CLUB" (1985), the best teen movie of all time. It is about how in transcending stereotypes we have so much in common. In our version of the story, we see the characters in a high school library serving Saturday detention for assorted mischief.
"Rebel" John Bender (attorney Rob Buchanan) sprawls at the center in don't-give-a-damn gear. Wrapped around his left ankle is a Nepal-flag bandana, commemorating that in October the Buchanan & Buchanan team took Bob Seger's advice of getting out of here and going to Kathmandu (to visit former clients, naturally).
"Brain" Brianna Johnson (nurse advisor Helen Hicks MSN) is a nerd and goody-two shoes. She's the one who actually writes the essay, and it's fantastic! Speaking volumes about our fragile, quarrelsome, and segregated world and how we fit into it. Here Johnson mends the broken trunk of an elephant, wounded on election day. Like the small wave that hit the House of Representatives in November, in our updated story Johnson is a woman.
"Princess" Claire Standish (legal intake specialist Caiti Hill) dresses to impress with a Dash-ing outfit, and reveals the lipstick held in reserve for those piglet claims that we turn away.
"Basket Case" Allison Reynolds (legal assistant Shelly Sichta) fades into the background and focuses on rescued fur babies in her sling bag.
"Athlete" Andrea Clark (paralegal Leslie Caliguri) is sporty and ready for any competitive match, whether that be on a workout mat, a hiking trail, bikes, or a flip cup table. She is holding a roll of duct tape that comes in handy for grooming defense lawyer buttocks.On the mezzanine we see:
Carl the Janitor (attorney Jack Buchanan) has his finger on the pulse. He looks through their trash, reads their emails, listens to their conversations, witnesses their Amazon deliveries, and is the eyes and ears of this institution, my friends!
Vice Principal Ricarda Vernon (office manager Janna Vande Griend) is a no-nonsense taskmaster who makes sure everyone is behaving and stays on task. Her focus is watching over delinquents and giving warning of any danger ahead, not a draping toilet seat liner from her past. Without Vernon there is no detention on Saturday.
2. Save the Wild Boars. In July, SEAL teams from across the globe descend into a dark cave labyrinth in Thailand. Working together in black, murky water and claustrophobic tunnels, divers find and rescue 12 teenage boys and their soccer coach after flooding trapped the Wild Boars for 18 days. Before divers can get to the boys, entrepreneur Elon Musk shows up with a stealth missile-shaped contraption claiming it will rescue the team. But this deliverance doesn't fit in the hole.
3. Just-Us Workout. Personal fitness is hip! And leading sweat battalions is our Nation's sprightly, 85-year-old US Supreme Court Justice Ruth Bader Ginsberg, affectionately called "RBG." Inspired by Jane Fonda's workout empire in the 1980s, Ginsburg in 2018 releases a best-selling exercise book, plays herself in a hit movie on the silver screen, and stands up to a tangerine bully. Even after busting three ribs in November at the office (some asking: "Look at Kavanaugh's calendar. Was he there?"), Ginsburg has missed no work, argument session, or court hearing.
4. Life Behind Bars. The sex abuse scandal upending US women's gymnastics ends in 2018 in courtrooms in Lansing, Michigan. In criminal cases, sports physician Dr. Larry Nassar pleads guilty to criminal sexual conduct and the court sentences him to 125 years behind bars, that's prison bars not parallel bars. In civil cases, Michigan State University agrees to pay $500 Million to settle claims of over 325 Nassar victims.
5. Sharp Right Turn Ahead: "I Really Don't Care, Do U?". Exasperated, like the first lady Melania Trump is with media critics, Justice Anthony Kennedy in June has enough of the new order at the US Supreme Court. Seeing no hope soon of a friendly White House, Justice Kennedy bolts for the exit. A panicking donkey around Kennedy's ankles doesn't slow him, and he tosses the gavel over his right shoulder, signaling a sharp turn ahead for the Court.
6. More Foul Weather. Hurricanes, squalls, and storms continue in 2018. "Hurricane Michael" pummels the Florida Panhandle in October. And, like the hurricane swamping Houston in 2017, a Texas tempest "Stormy Daniels" wreaks havoc on a white house in Washington DC frosting everything inside. Here we see young Johnny McCain, the "White Tornado," pointing out deficiencies. Sadly, John died in August.
7. The Good Judge. In December, the American Board of Trial Advocates (ABOTA) honors our favorite judge: Jane M. Beckering of the Michigan Court of Appeals – a Buchanan & Buchanan alumna! ABOTA awards Beckering the Lifetime JUDICIAL ACHIEVEMENT AWARD for her fair administration of justice for all people, integrity, and exceptional work as a judge since 2007.
8. Mrs. Droughtfire on Tinder. 2018 is a smoky year for California. Wildfires burn over 1,500,000 acres from April to November – the most destructive in state history. Fires are still burning. Here, Bender is holding a lighter of The Golden State.
9. "Reefer"-endum. Michigan voters pass the "reefer"-endum on the November ballot legalizing recreational marijuana. Proponents claim it will raise $288 million a year in new state tax revenue, and another $3 billion in Doritos sales. Here, Bender catches a whiff of a skunky, pungent aroma. He isn't sure if this odor is from the new state flower rolled between his fingers or from kitten tinkles soaking Reynolds' bag.
10. The Daredevil Raccoon. In June a young, bandit-masked raccoon dramatically scales a 25-story skyscraper in St. Paul, Minnesota over 20 nail-biting hours, becoming an online sensation. Perhaps now people will be more tolerant when a raccoon raids the trashcan or sneaks into the garage.
11. Facebook Live. Buchanan & Buchanan now uses FACEBOOK LIVE regularly to share important news, safety tips, and interesting features with you. Thank you for watching our videos (sometimes sideways), participating live, giving "Likes" each time, and sharing them with your friends and family.
12. It's PFAS, not pee fast. Perfluoroalkyl and polyfluoroalkyl substances (PFAS) have become a regular story in Michigan news. They are man-made chemicals that have been in common household products, like Scotchgard, since the 1950s. They are being found in Michigan lakes, do not break down easily, and health effects on humans isn't well known. PFAS is the subject of new West Michigan lawsuits.
13. Two, Four, Six, Eight, Who Do We Incarcerate? In June, the Trump administration's "Zero Tolerance Policy" forcibly separates immigrant children from their parents at the US-Mexican border. After widespread backlash, days later President Trump ends the separation practice. That means there are no more baby internment camps, just regular internment camps.
We won't forget about you come Monday morning!
We accept you, we are your friends, and we want to help.
OUR CARD IS A "MAD FOLD-IN": Fold at the creases for a true Breakfast Club send-off!