Medical Malpractice Attorneys Rob Buchanan and Donna MacKenzie Discuss Dr. Malviya Lawsuit with 7 Action News Detroit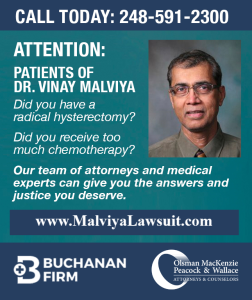 Longtime Michigan gynecological oncologist Dr. Vinay Kumar Malviya recently settled a $775,000 civil lawsuit with the Department of Justice ("DOJ") after being accused by physicians, former patients, state regulators, and the DOJ of putting countless women at risk of needless complications by performing unnecessary procedures, including radical hysterectomies and administering excessive cycles of chemotherapy. As a result of these risky and often unjustified procedures, many patients suffered irreparable, lifelong emotional, psychological, and physical damages.
Veteran Michigan medical malpractice attorneys Donna MacKenzie and Rob Buchanan sat down with WXYZ 7 Action News Detroit to discuss the shocking claims and ongoing litigation against Dr. Malviya, who is referred to as "the butcher" by former colleagues. To watch the full local news investigation and to hear firsthand accounts of Dr. Malviya's alleged medical malpractice from his former patients and medical associates, please visit Michigan cancer doctor accused of performing unnecessary radical hysterectomies (wxyz.com).
Former Patient Jami Schuermann Exposes the Lifelong Harm She Suffered After Undergoing an Unnecessary Total Hysterectomy Performed by Dr. Malviya.
Former Dr. Malviaya patient Jami Schuermann went in for treatment of a routine ovarian cyst and walked out after undergoing a total hysterectomy. Despite genetic testing showing that she was not at high risk for developing ovarian cancer, Dr. Malviya proceeded to remove her uterus, cervix, and both ovaries when she was only 35, after failing to offer less aggressive and more appropriate options. As a result of this unnecessarily risky and invasive procedure, Scheurmann suffered ongoing, significant side effects and has been repeatedly hospitalized for intense pain.
"I kind of went in with something that, to me, wasn't a big deal, and it turned into a big deal very quickly," Schuermann said. Attorney Donna MacKenzie explained that "She didn't even have cancer at all, but rather than explain to her what options she might have…[Dr. Malviya] preyed on her fear of the word cancer."
Today, attorneys MacKenzie and Buchanan are preparing a lawsuit on behalf of Schuermann and other patients who were subjected to needless procedures in seeking to hold Dr. Malviya accountable for his gross negligence and medical malpractice.
How Were Dr. Malviya's Alleged Unnecessary Surgical Procedures Exposed?
In 2016, Malviya's former employer, Ascension Hospitals, engaged with a third-party physician to review patient records over concerns that he was operating outside the medical standard of care. Repeatedly, the reviewing doctor found that Malviya performed needless procedures, including radical hysterectomies, when much less invasive options with fewer risks were warranted. Additionally, it was discovered that Malviya repeatedly overprescribed chemotherapy, ordering nine rounds instead of the six that were medically appropriate. As a result of unnecessary surgical procedures and treatments, countless women experienced significant side effects including (but not limited to):
Excessive blood loss
Bone marrow suppression
Kidney damage
Bladder dysfunction
Sexual dysfunction
Damage to the bladder, bowel, ureters, and major vessels
Trouble walking
In 2017, Michigan state watchdogs at the Department of Licensing and Regulatory Affairs ("LARA") hired an independent physician to review Malviya's treatment records after his own colleagues went to the FBI over concerns regarding his treatment. The independent physician found that in twelve cases where Dr. Malviya performed radical hysterectomies, the procedure "was not appropriate in 9," explaining "this egregious surgical management" was "heavily influenced by a lack of knowledge as well as…financial gain." Dr. Malviya medical malpractice lawyer Robert Buchanan explains that these invasive procedures came with greater risks. "His patients would leave with big incisions…it was very common for those incisions to get infected," elaborated Buchanan.
In April 2022, the United States Department of Justice sanctioned Dr. Malviya for performing unnecessary surgical procedures and administering excessive chemotherapy. Malviya agreed to pay $774,000 to resolve the DOJ claims, but he refused to admit wrongdoing despite acknowledging that many of his procedures were unconventional. He is now banned from participating in the federal Medicare and Medicaid programs until 2025; however, he has still been allowed to retain his medical license.
At What Hospitals Did Dr. Malviya Perform Unnecessary Surgeries and Procedures?
Dr. Malviya performed unnecessary procedures and treatments at Ascension hospitals in Michigan, including:
Providence Park Hospital in Southfield,
John Hospital and Medical Center in Detroit
John Macomb Oakland Hospital in Warren
Ascension Crittenton Hospital in Rochester
Michigan Malpractice Lawyers Committed to Fighting for the Victims of Dr. Malviya and Ascension Hospitals.
We will be hosting an informational meeting for patients of Dr. Malviya on September 22, 2022 at the Holiday Inn Express & Suites, 25100 Northwestern Highway, Southfield, MI at 4 pm.
If you received medical treatment from Dr. Malviya at an Ascension hospital, we invite you stop by the meeting on Sept. 22, or contact Donna MacKenzie (248.591.2300) or Rob Buchanan (616.458.2464) to schedule a free, confidential consultation to learn whether you may qualify to pursue justice and maximum compensation for your injuries.