Caution: Road Work Ahead – Be Careful Driving in Michigan Construction Zones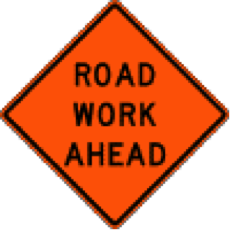 Orange barrel and arrow board season is approaching. Road construction slows Michigan highways, interstates, and rural roads, especially in the summer. Our state's freshwater lakes, dunes, and natural beauty attract out-of-state visitors in the warm months. The increase of construction zones and road traffic is a dangerous combination, causing thousands of motor vehicle accidents in construction areas every year. The Michigan Department of Transportation (MDOT) released totals for 2016:
4,908 automobile accidents in construction zones
17 fatalities in construction zones
Hazards and casualties in construction areas should scare anyone driving in Michigan to be more careful, to protect themselves and passengers. Be informed of the dangers. If an injury occurs, seek help from an experienced attorney who understands construction zone accidents and can investigate immediately. Construction zones change constantly, so it is critical to photograph and video the accident scene and construction hazards soon after the accident. At Buchanan Firm, we promptly investigate these claims and take action to secure fair reimbursement for the injured.
Standards, Rules, and Regulations for Road Construction
There are standards, rules, and regulations for roadway construction to reduce dangers to drivers and pedestrians. Department of Transportation standards, for instance, regulate roadway markings, the flow of traffic, drop-offs, and sightlines – – all hazards that construction zones create. Profits-focused contractors often skimp on safety to finish a job on time or ahead of schedule. When negligent conduct causes injury, the contractor should be accountable for harm and losses to people injured.
Common Causes of Construction-Zone Crashes
Injuries and fatalities in road construction accidents are reduced if drivers stay informed and pay attention. Common causes of crashes in construction areas are:
Speeding
Disobeying or Ignoring Construction Signs
Distracted or Inattentive Motorists
Frustration or Anger
Tailgating
Problematic Merging
Avoiding Crashes in Construction Zones and Protecting Yourself
Most construction area accidents are preventable. Cautious and safe driving reduces injury. Remember these tips when driving in a construction area:
Follow the posted speed limit
Pay attention to your speed
Follow the signs and warnings
Plan ahead and avoid construction areas when possible
Don't drive distracted
Always be attentive and alert
Scan your surroundings
Keep calm and patient
Maintain a safe following distance
What to Do if You or a Loved One Are Injured in a Construction Area
After the accident:
Contact the police and seek medical attention
Obtain contact information for all parties involved and any witnesses
Observe other parties involved and document observations and conversations
Notify your auto insurance company of the accident and apply for no-fault benefits
Promptly hire a plaintiff-automobile-accident attorney
Review your auto policy, and have your new attorney review the policy, for notification requirements and available benefits
Do not sign a release form or provide a statement (written or recorded) to an insurance adjuster before hiring an attorney. What you say will be used against you.
If you or anyone you know was seriously injured in a road construction area accident, contact the Buchanan Firm law firm. The accident experts at the firm understand what you are going through and will start a full investigation of the accident, determine the cause, and identify those who are responsible to reimburse you for the harms and losses. At Buchanan and Buchanan, we are skilled at investigating motor vehicle accidents and successfully negotiate fair settlements with insurance companies, and persuasively presenting cases at trial when insurers refuse to do what is right. The firm offers a No Fee Promise: If you don't win, you don't pay a professional fee.