Morcellation: An Avoidable Cancer Disaster To Women
A surgical instrument used to mince up ("morcellate") and remove the uterus during a hysterectomy, a uterine fibroid, an ovarian tumor, or other tissues during laparoscopic surgeries on women significantly increases cancer injuries to women.  With the device, a hysterectomy can be a death sentence.
Uterine cancer, for instance, afflicts many women.  The American Cancer Society estimates 52,630 new cases of uterine cancer will be diagnosed and 8,590 women will die of uterine cancers in the United States in 2014.  Cancer statistics are frightening enough, without a surgical instrument that spreads or "stages up" cancer exacerbating the dangers to women.  Too many of these women are sentenced to death by an unnecessary procedure.  The attorneys and health care professionals of Buchanan Firm have joined healthcare advocates to raise awareness about and prevent the dangers of the gynecologic procedure called "morcellation."
What is Morcellation?
The procedure, morcellation, uses a power device to shred larger tissues into tiny pieces that can be removed through small incisions in the abdomen.  The technique is part of minimally invasive surgery to avoid big incisions and shorten recovery time.  Morcellators are commonly used in laparoscopic hysterectomies or the removal of uterine fibroids (myomectomy).  Some gynecologists also misuse morcellators to remove ovarian tumors.  Once inserted into the belly, the spinning blade of the power device chops the tissue into small pieces inside of the abdominal cavity.  After the mincing, the gynecologist uses a separate suctioning tool to vacuum out the pieces seen with a periscope camera.  Because of the centrifugal splatter of the spinning blade and the camera's limited view, some of the pulverized material is left behind. Here is one example of a morcellator.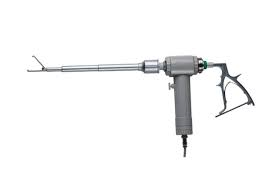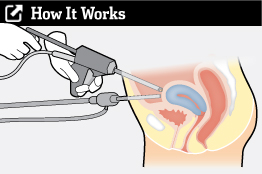 Spreading Cancer by Morcellation
The morcellation technique is used in 80,000 gynecological surgeries every year. But, we now know it is dangerous. In some women, fibrous uterine tissues can be harboring undiagnosed and contained cancer. When these noxious tissues are chopped up inside of the abdomen, cancer cells are released and seed other areas of the patient's body.
Medical science has not yet advanced enough to detect cancer cells in uterine fibroids before removal. The Federal Drug Administration (FDA) reports 1 out of 350 women with uterine fibroid removal had undiagnosed sarcoma, and 1 out of 500 had leiomyoscarcoma; both are uterine cancers.
Average lifespan for a woman after morcellation of a cancer is only 24 to 36 months, and women of a morcellated sarcoma are 4 times more likely to die from the cancer. The bleak consequences have prompted warnings to gynecologists and women about this avoidable disaster.
Physician's Personal Cancer Tragedy Prompts Industry Change of Morcellation Practice
Morcellation has been debated and scrutinized for years. In the past year, the standard for gynecologic surgeries has finally changed. Much of the credit for change goes to a 40-year-old Boston physician Amy Reed, whose personal tragedy from a morcellated cancer has prompted national awareness of the danger. Dr. Reed treated Boston Marathon bombing victims in April 2013 and is considered a hero.
On October 17, 2013, Amy Reed, an anesthesiologist at Beth Israel Deaconess Medical Center (a teaching hospital of Harvard Medical School), underwent a morcellation to remove her uterus covered in what was believed to be benign, fibroid tumors. All tests before the procedure were negative for cancer, which is not surprising because there is no reliable preoperative tests for uterine cancer. After a gynecologist morcellated her uterus in a laparoscopic hysterectomy, pathology found uterine leiomyosarcoma. The morcellation spread the cancer cells throughout her abdomen and converted a dangerous but treatable disease to a death sentence.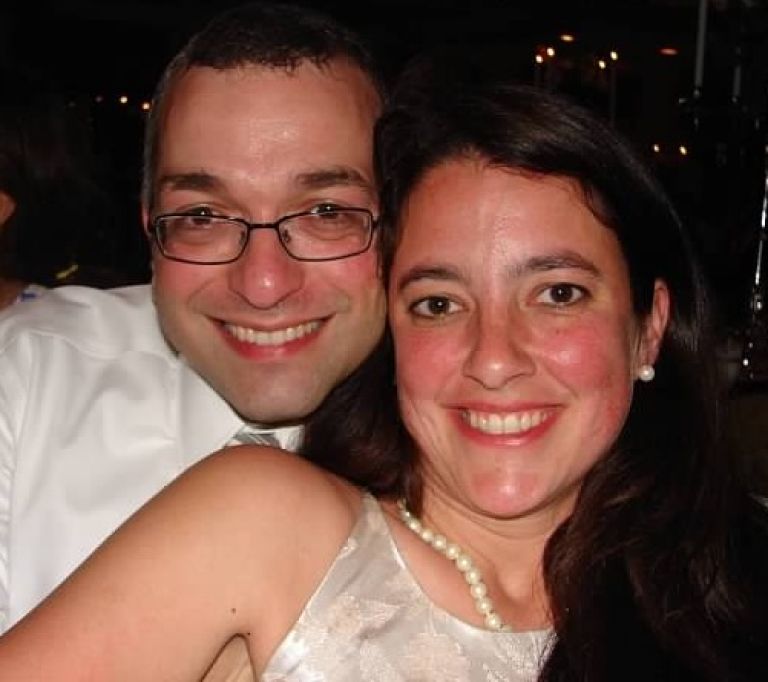 "Amy Reed and her husband, Hooman Noorchasm (before)"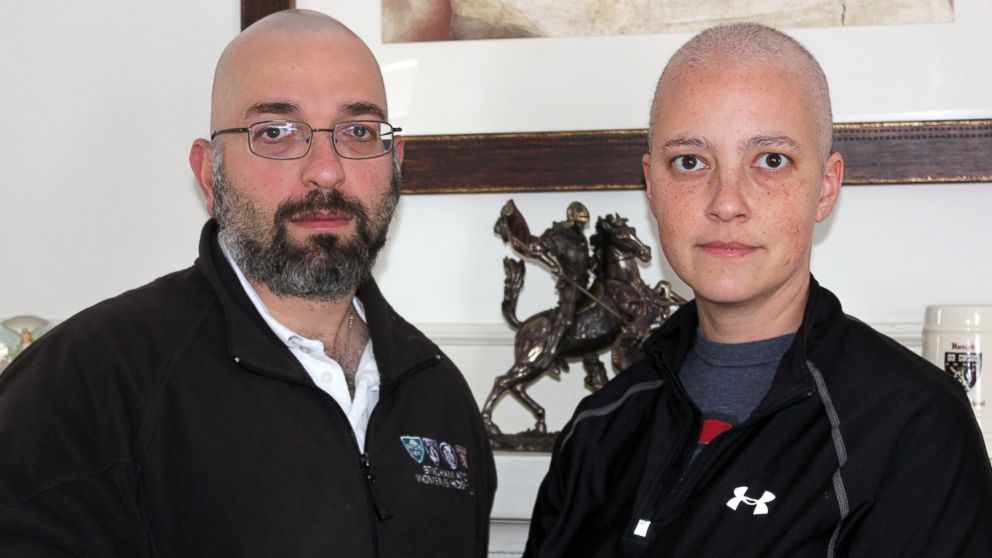 Dr. Reed and her husband (recently)
After Dr. Reed's devastating diagnosis of stage 4 cancer, she and her surgeon husband, Hooman Noorchashm, have campaigned against the morcellation to change the standard of care in gynecology and protect women. Since then, the FDA, medical journals, medical professionals, and gynecological associations have issued warnings about the dangers of morcellation.
CAMPAIGN AGAINST MORCELLATION
In response to tragedies like Amy Reed's, the FDA, medical societies, and institutions are carefully researching and developing policies to protect patients against morcellation.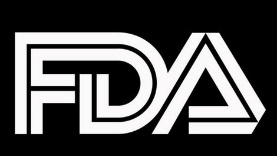 FDA Issues a Warning

On April 17, 2014, the FDA issued a warning discouraging using power morcellation because of the risk of spreading undetected cancer throughout the abdominal cavity. The FDA also warned there is no method to detect if a uterine fibroid is a cancer before removal. Gynecologists are urged to stop using power morcellators in minimally invasive hysterectomies and fibroid removals.
Federal regulators also noted there are safer alternatives available to women who require hysterectomies and myomectomies, including vaginal hysterectomies and open surgery. While both are more invasive than laparoscopy, they do not spread cancer.
The American College of Obstetricians and Gynecologists (ACOG) Special Report
In response to the FDA warnings, the American College of Obstetricians and Gynecologists (ACOG) formed a task force of obstetrician-gynecologists with expertise in laparoscopic surgery, gynecologic oncology, and urogynecology to study the morcellation problem. On May 9, 2014, ACOG released a special report "POWER MORCELLATION AND OCCULT MALIGNANCY IN GYNECOLOGIC SURGERY." Find the full report at this link:
http://www.acog.org/Resources-And-Publications/Task-Force-and-Work-Group-Reports/Power-Morcellation-and-Occult-Malignancy-in-Gynecologic-Surgery
ACOG, an organization that actively seeks to shield gynecologists from legal liability, made these recommendations:
Women with known uterine cancer, or for whom there is a high suspicion, should not receive power morcellation.
Women for whom a power morcellation is an option should have a careful preoperative evaluation for occult (hidden) malignancy.
Patients require counseling about the risks, benefits, and alternatives to treatment with morcellation. Informed consent should be obtained.
ACOG also recommended other changes:
Additional research to develop better and more reliable preoperative diagnostic tests for uterine malignancies.
Development of more effective and safer techniques for reducing the risk of spreading tissue during morcellation.
Continued emphasis on training, including techniques for morcellation, pathological evaluation, and diagnosis of tissue fragments extracted via morcellation, and better ways to evaluate clinical indications for morcellation.
Request the FDA establish a national registry on gynecologic power morcellation to fill the gap in data on preoperatively undiagnosed uterine sarcoma.

The FDA plans to convene an advisory committee meeting on power morcellation.
American Association of Gynecologic Laparoscopists
In May of 2014, the American Association of Gynecologic Laparoscopists (AAGL) – an organization of physicians who perform these surgeries – went a step beyond the FDA and ACOG by issuing new guidelines on morcellation. The full AAGL report, "MORCELLATION DURING UTERINE TISSUE EXTRACTION" is at this link:
http://www.aagl.org/wp-content/uploads/2014/05/Tissue_Extraction_TFR.pdf
Key guidelines by AAGL are:
Do not perform morcellation in risk-reducing surgery or in women with known malignant or premalignant conditions.
Use morcellation only after appropriate and reassuring evaluation of the myometrium, cervix, and endometrium.
Use alternatives to morcellation in women with suspected malignancy.
Consider alternatives to morcellation in postmenopausal women, who have an increased risk for uterine malignancy.
Obtain informed consent, including a thorough discussion of risks and benefits, from women considering electromechanical morcellation.
Use of catch bags during morcellation requires "significant skill and experience," and the safety and outcomes of use require more study.
BUCHANAN & BUCHANAN SUCCESSFULLY HELPS WOMEN INJURED
BY CANCER MORCELLATION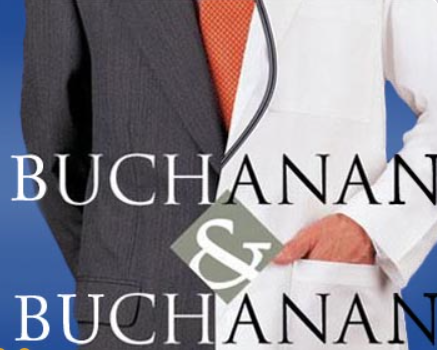 Buchanan Firm legal-medical team of Grand Rapids, Michigan has successfully helped women injured by cancer morcellation. Recently, for instance, the team helped a young woman, Rebecca, who underwent a laparoscopic procedure to remove an ovarian tumor. Without telling her before, the gynecologist used a morcellator to grind up the tumor inside of her abdomen. The tumor turned out to be ovarian cancer.
Rebecca had a known, large, suspicious mass in the left ovary, for which the 33-year-old woman saw a gynecologist. He performed laparoscopic surgery on Rebecca to evaluate the mass. During the procedure, the gynecologist punctured and cut the large mass into pieces inside of her abdomen so he could remove it through the small incisions – instead of converting the surgery to an open procedure and appropriately removing the ovary intact.
Before he ground the ovary into tiny bits, the cancer was fully encapsulated inside of the ovary, preventing the escape of its cancer cells. Stromal tumors confined to the ovary are cured when the ovary containing the tumor is surgically removed intact. By morcellating the ovary, the gynecologist scattered and seeded cancer cells into other parts of Rebecca's abdomen.
Spilled cancer cells left behind invaded healthy tissues, formed new tumors and caused extensive damage. Rebecca suffered repeated recurrences of the cancer, chemotherapy, and a complete hysterectomy denying her every child she would ever have. Her prognosis because of morcellation changed from curable, to incurable and probably terminal.
Buchanan Firm successfully prosecuted Rebecca's claim against the gynecologist with support from national experts on the dangers of morcellation. Buchanan Firm also extracted damning admissions from defense witnesses about the dangers of morcellating gynecologic tissues.
What to Do if You or a Loved One Is Diagnosed with Cancer After a Morcellation Procedure
Perhaps you or a loved one recently had gynecologic surgery. If a morcellator was used and you notice medical problems, consider testing to ensure you do not have undetected cancer that was spread by the power device. If you have been diagnosed with cancer after a morcellation, you must act quickly. Michigan law fails to protect people injured by medical professionals and any delay in seeking legal help can mean losing your right to reimbursement. A medical malpractice lawsuit must be brought within 2 years after the medical error (e.g., surgery date) or be barred forever. In limited instances, a claim may be brought within six months after the patient discovers or should have discovered the error, so long as it is brought no later than six years after the error.
At Buchanan Firm, our combined legal-medical team has decades of experience handling medical malpractice cases, including cases of cancer spread by morcellation. We have medical professionals on staff to talk with you and immediately review your claim. Our team quickly and efficiently assesses the medical facts and takes immediate action to protect your legal rights.