Pre-Travel Holiday Road Trip Tips
Many Michiganders hit the road to visit relatives and friends during the holiday season. With potential bad weather, congested roadways, and the typical perilous conditions (i.e., traffic jams in Detroit and its many suburbs, or slippery s-curves surrounding the city of Grand Rapids), it is important to travel mindfully and with caution. Whether you are headed to Grandma's cabin in the upper peninsula or to meet friends at the Gun Lake Casino, here are some pre-travel holiday road trip tips that will make your travel safe and memorable.
Prepare your Home for Safety While You're Away. We don't want your holiday to turn out like it did for Kevin's neighborhood in Home Alone. It is simple to protect your home while you are away during the holidays. External motion sensor cameras can alert you of any unwanted visitors to your home. Also, let your neighbors know if you plan on being gone for a duration of time around the holidays and ask them to check on your home periodically.

Establish a Safe Route and Use Helpful Apps to Avoid Traffic and Accidents. Even if you have done the route before, take a quick check of it before hitting the road, or use a helpful phone application like Waze to make you aware of altering travel conditions. Waze will reveal when there are accidents, closed roads, or other changes in route conditions.

Engineer a Comfortable Environment. Travel can be frustrating for driver and passengers alike, and it is important to engineer an environment in your vehicle that will keep everyone as happy as possible during a trip. Sometimes the small things, such as a clean and tidy vehicle can reduce travel anxiety. Here are a few things you can do to improve the driving environment:
Adjust your seat to the right position before departing.
Fit your cell phone into a hands-free dash or console mount positioned properly so it can be easily seen.
Be prepared with entertainment items –audio books, games, music, or iPads for passengers. Make sure everything you would want is downloaded and batteries are charged.
Bring a cooler with snacks, caffeinated beverages, or water and make sure they are accessible for the driver and passengers.
Plan a fun pit stop. Make sure you stop every 2-3 hours to stretch, move around, and get some fresh air. This will help prevent fatigue or more serious conditions such as deep vein thrombosis. Also, stopping once in a while can make the trip more enjoyable, especially if the stop has a treat (think Mackinac Island fudge or a tasty pastry from Zingerman's deli).
At every stop, take a look around the vehicle. Remove the trash and clear the crumbs to keep things fresh and tidy.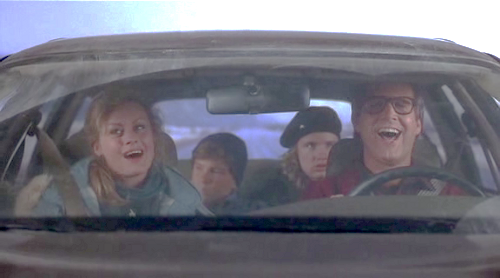 Sanitize. The cold weather and the extra shaking of hands and hugs can easily pass germs. If you haven't gotten a flu shot, GET ONE TODAY. It takes up to two weeks to be effective, but vaccinating today could save you an illness on New Years Eve. Wash your hands frequently with soap or antibacterial hand sanitizer. Everything you touch has been touched by someone else, including armrests and door handles. Drink lots of water. Staying hydrated is a key to staying healthy.

What happens if you are involved in an accident in Michigan? If you do get in an accident, don't panic.  Remember Buchanan Firm is a friendly firm that will help you through a crash that is not your fault. In Michigan, if you are involved in a crash, you are eligible to receive Michigan No-Fault insurance benefits (a first party claim) and when the injuries are catastrophic or fatal, you can also sue the at-fault party for pain and suffering compensation (a third-party claim).
If you or anyone you know was seriously injured in a crash in Michigan, contact the Grand Rapids car accident lawyers at Buchanan Firm. We understand what you are going through and will start a full investigation of the accident and identify those who are responsible to reimburse you for the harms and losses. At Buchanan Firm, we are skilled at investigating vehicle crashes and we successfully negotiate fair settlements with insurance companies, or persuasively present cases at trial when insurers refuse to do what is right. The Buchanan Firm offers a No Fee Promise: If you don't win, you don't pay a professional fee.