Dr. Farid Fata: Michigan Medical Crimes of Causing Intentional Patient Harm. Intentional Acts Differ from and are Well Beyond Medical Negligence (also Known as Medical Malpractice).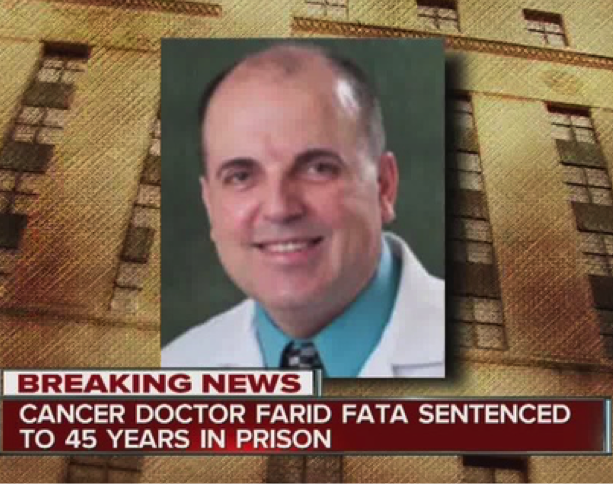 Medical Crime
A nightmare of criminal fraud: a doctor pumping poisonous chemotherapy drugs into hundreds of patients for years, falsely telling them they had cancer when they did not. The same doctor intentionally over-treated terminal cancer denying them the right to die peacefully. On July 10, 2015, nearly two years after arrest, a federal judge in Detroit sentenced Oakland County, Michigan oncologist Farid Fata MD to 45 years in prison for violating the trust of over 530 patients to pirate for himself more than $17 million in fraudulent billings. At sentencing Dr. Fata admitted his crimes: "I misused my talents … because of power and greed. My quest for power is self-destructive."
The U.S. Attorney charged Dr. Fata for billing Medicare and insurance companies over 100 million dollars between 2007-2013 by ordering chemotherapy treatments for patients who did not have cancer or with cancer in remission, prescribing excessive amounts of medications, and ordering needless tests. His crimes lasted so long prosecutors could not find every fraud and intentional harmful treatment. The false diagnoses seriously harmed, and sometimes killed, his patients. U.S. Attorney Barbara McQuade observed: "He saw patients not as people to heal, but as commodities to exploit." She remarked Dr. Fata's crimes were "the most egregious health care fraud case I have ever seen."
Patients who are victims of intentional physician harm, such as the intentional harms by Dr. Fata, can sue the physician for reimbursement. These are harms caused by physician crimes, and differ from and go well-beyond a harm caused by physician negligence (also known as medical malpractice).
Dr. Fata's Intentional Medical Harms (Different From and Go Well Beyond Medical Negligence)
Dr. Fata's motive for profit at the intentional harm of a patient differs from and goes well beyond medical negligence. It is a crime justifying life-long prison time. Dr. Fata violated criminal laws by:
Falsely diagnosing patients with cancer to give unneeded cancer treatments
Giving poisonous cancer medications to patients who did not have active cancer
Fabricating cancer diagnosis to get paid for needless medical treatments
Giving controlled substances to patients who didn't need them
Medical Negligence / Medical Malpractice
Medical negligence (also known as medical malpractice), is not a crime nor intentional harm, but rather involves, for instance, misdiagnosing a medical condition the physician should not have.
A misdiagnosis may not be negligence. The key is determining if a medical professional violated a patient safety rule, causing harm to the patient. For example, the method used by a physician to properly diagnose a medical condition is called "differential diagnosis." To protect the patient from harms and losses, the physician is supposed to rule out the most serious possible causes first – before considering less harmful conditions. The patient safety rule is sometimes referred to as "Worst First." If a physician violates the patient safety rule by not first ruling out (i.e., eliminating as cause) the most serious possible causes and as a result, the patient gets injured, it is medical negligence / medical malpractice. Under Michigan law, the physician should reimburse the patient.
Misdiagnosis can harm a patient by the wrong treatment causing harm or denying correct treatment. Timely and correct diagnosis is often critical with a serious medical condition or disease such as cancer. Misdiagnosis may cause harm including:
Exposing a patient to more harmful treatment
Unnecessary surgery
Unnecessary complications or harms
Permanent injury or death
If you or a loved one has been harmed by a physician's crime (i.e., an intentional injury), or by an unintended harm of medical negligence (medical negligence), act fast to protect your legal rights to reimbursement. Michigan law does a poor job protecting people injured by a medical professional and any delay by the patient in seeking legal help can mean losing rights of reimbursement forever. Under Michigan law, a medical negligence claim against a doctor or other medical professional must be filed by a patient in a Michigan court only 2 years after the medical incident. If the lawsuit does not get filed within 2 years, a claim may be barred forever. On rare occasions, a "discovery rule" may briefly extend the 2-year time if the negligence was not discovered until after the limitation period expired.
At Buchanan Firm, our combined legal-medical team has decades of experience handling medical malpractice cases, including cases involving misdiagnosis. We have medical professionals on staff to talk with you and immediately review your claim. Our Michigan medical malpractice lawyers quickly and efficiently assess the medical facts and take immediate action to protect your legal rights. Call the Buchanan Law Firm in Grand Rapids Michigan toll-free at (800) 272-4080.