Driver Who Struck Pedestrian in Marked Crosswalk in Grand Rapids Resolves Catastrophic-Injury Claim For $1.25 Million (the Insurance Policies' Limits)
Grand Rapids is Michigan's second largest city and growing. As the area grows and local economy booms, more residents walk to work or school, increasing the flow of people on sidewalks and using crosswalks. Motorist crashes with pedestrians are rising.
In the early evening of Tuesday, December 23, 2014, a 20-year-old woman driving an SUV struck a 16-year-old boy crossing Fuller Avenue NE at Sweet Street in a marked, well-lit crosswalk. The driver never saw the boy before the left-front SUV bumper hit and launched him 85 feet away into the oncoming lane. The teenage pedestrian, Jacob Rodgers, lived in the neighborhood and was walking home from a friend's house. He used the crosswalk at least twice a day going to and from school.
Sadly, Jacob sustained a traumatic disabling brain injury in the crash putting him into a coma for months. He continues intensive recovery as an inpatient at Mary Free Bed Rehabilitation Hospital in Grand Rapids.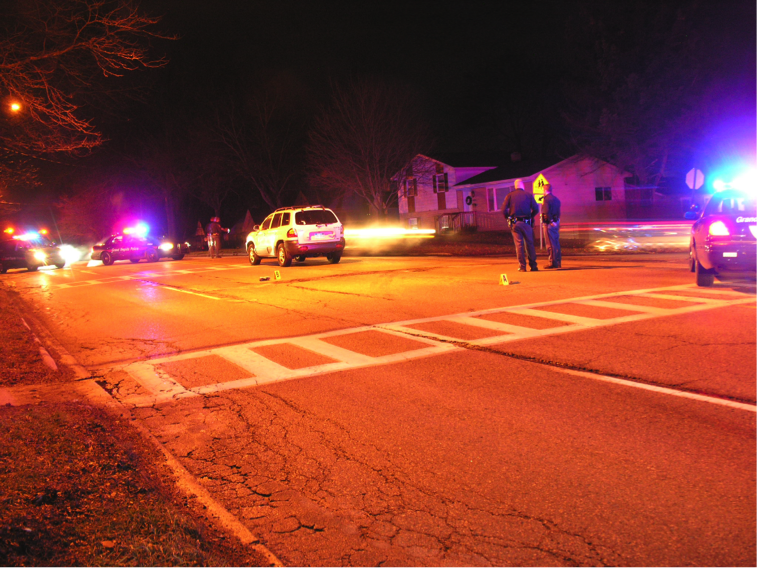 The SUV-Pedestrian Accident Scene on December 23, 2014
Days after the horrible accident, Jacob's family hired the Buchanan Firm team to investigate the motor vehicle–pedestrian collision and represent him in the legal claim, called a "third-party claim" under the Michigan No-Fault Act. A pedestrian who sustains permanent disfigurement, severe injury, or death may sue a motor vehicle driver at fault for the accident.
The driver, who never saw Jacob before she hit him, told Grand Rapids Police that night he must have dashed in front of her SUV. The Kent County Prosecutor's Office declined to ticket or take any legal action against the driver, fearing it could not persuade a Michigan jury of guilt.
The team at Buchanan Firm however devoted eight months to intense investigation, gathering key evidence, and reconstructing the collision with the best experts in the United States. They showed the driver's insurance company they could prove she was at fault for the accident. Evidence the law firm found and pieced together revealed the SUV driver should have seen Jacob and had plenty of time to stop before striking him in the crosswalk. Robert J. Buchanan persuaded her insurer to pay $1.25 million, the limits of her two insurance policies, to settle the matter out of the courthouse. The money will provide care, equipment, and resources Jacob needs.
If you or someone you know was seriously injured in a motor vehicle accident, please contact Buchanan Firm for help (800-272-4080; buchananfirm.com). Our expert Michigan car accident lawyers will immediately investigate the accident and help you obtain reimbursement for the harms and losses.