Patient Safety in Michigan Hospitals: What Letter Grade Did Your Local Hospital Receive in the Fall 2018 National Leapfrog Hospital Safety Grade?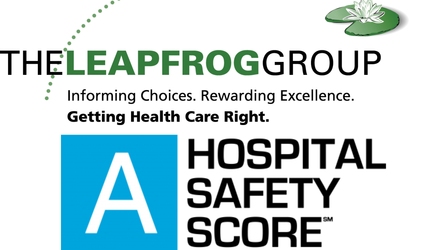 What is Patient Safety? Patient safety is a discipline that emphasizes safety in the health care industry through the prevention, reduction, reporting, and analysis of medical error that leads to adverse effects. As time progresses, healthcare becomes more effective but also more complex with the use of new technology, medications, and treatments. The complexity has increased medical errors and it is estimated that over 440,000 people die every year from preventable errors in hospitals. How do you determine if your local hospital is practicing patient safety? The nonprofit organization, Leapfrog Group created a Hospital Safety Grade to score hospital patient safety throughout the nation in an effort to drive quality and safety in the United States healthcare system.
A major problem with patient safety in our healthcare system is the lack of information available to the general public. The purpose of the Leapfrog Hospital Safety Grade is to bring information to the consumer, so they can make informed choices about where to receive healthcare. It is assumed hospitals are safe. Many people do more research on what car to buy than what hospital to go to for medical care. The Leapfrog Hospital Safety Grade provides data that assists consumers in making informed decisions about the most critical aspect of a hospital visit – safety. A hospital can boast about the latest technology and highly-trained surgeons, but unless it is preventing infections and doing everything to eliminate errors, it is not promoting what should be its utmost premise: patient safety.
Leapfrog Hospital Safety Grades are assigned to over 2,600 hospitals across the nation twice per year. The Safety Grade is provided in the form of a letter grade A – F. The grade is determined using national performance measures from:
Centers for Medicare & Medicaid Services (CMS)

Agency for Healthcare Research and Quality (AHRQ)

Centers for Disease Control and Prevention (CDC)

American Hospital Association's Annual Survey

Health Information Technology Supplement
Using data from these sources, a hospital is given a single letter grade representing the hospital's overall performance in keeping patients safe from preventable harms. The Leapfrog Hospital Safety Grade methodology for determining the grade has been peer-reviewed and published in the Journal of Patient Safety.
Choosing which hospital is often a location preference. While you should never refuse care in an emergency because of a hospital's Safety Grade, if you do have a choice (i.e., preparing to have a baby or a scheduled surgery), the Leapfrog Hospital Safety Grade can help guide your decision. The Safety Grade rates hospitals on the very basics of medical care, like handwashing, entering prescriptions, and the availability of highly trained nurses. Obviously, "A" hospitals do a better job of preventing errors. If your local hospital is below an "A," talk to your doctor at the hospital and urge improvement on safety and emphasize the importance of patient safety.
So how did local West Michigan hospital's score in the most recent Leapfrog Hospital Safety Grade? Below are letter grades received by West Michigan hospitals in the fall 2018 Leapfrog Hospital Safety Grade:
A: Mercy Health Saint Mary's, 200 Jefferson Ave. SE in Grand Rapids
A: Spectrum Health Zeeland Community Hospital, 8333 Felch St. in Zeeland
A: Spectrum Health United Hospital, 615 S. Bower St. in Greenville
A: Spectrum Health Pennock, 1009 W. Green St. in Hastings
A: Bronson Battle Creek, 300 North Ave. in Battle Creek
B: Mercy Health Mercy Campus, 1500 E. Sherman Blvd. in Muskegon
B: Mercy Health Hackley Campus, 1700 Clinton St. in Muskegon
B: Bronson Methodist Hospital, 601 John St. in Kalamazoo
C: Spectrum Health Blodgett Hospital, 1840 Wealthy St. SE in Grand Rapids
C: Spectrum Health Butterworth Hospital, 100 Michigan St. NE in Grand Rapids
C: Metro Health-University of Michigan Health, 5900 Byron Center Ave. SW in Wyoming
C: Ascension Borgess Hospital, 1521 Gull Rd. in Kalamazoo
Michigan ranked number 11 overall in the country for patient safety, improving from its rank of 24 in the spring of 2018.
The website allows for one to look at an individual hospital to see data that led to the determination of a letter grade. For example, below is a closer look at why Spectrum Health Butterworth Hospital scored a "C" this fall: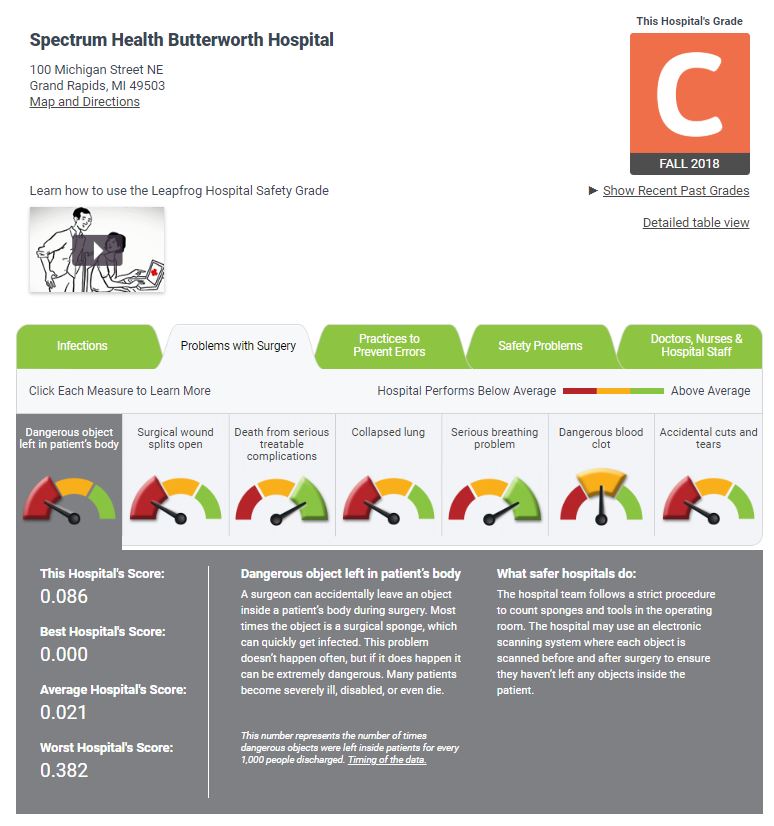 You can look up your local hospitals and see the score by visiting the link below:
https://www.hospitalsafetygrade.org/
Perhaps you or a loved one recently visited a hospital and experienced patient safety violations.  If the violations caused a devastating result, seek legal recourse immediately. Ask about filing a complaint online with your state health department. It is important to speak to an experienced Michigan medical malpractice attorney about your rights. Michigan law is unfair to people injured by medical professionals and any delay seeking legal help can mean losing your right to reimbursement. A medical malpractice lawsuit must, typically, be brought within 2 years after the medical error (e.g., surgery date) or be barred forever.
At Buchanan Firm, our combined legal-medical team has decades of experience handling medical malpractice cases involving patient safety violations. We have medical professionals on staff to talk with you and immediately review your claim. Our team quickly and efficiently assess the medical facts and takes immediate action to protect your legal rights.